M&S on board - our verdict
After much hearsay British Airways have announced their upcoming catering partnership with M&S.   
Alex Cruz, British Airways' Chairman and CEO said in a British Airways article announcing the news:
"Like British Airways, Marks & Spencer is a well-known, premium British brand that is respected and trusted, so it's an ideal partnership, providing our customers with a choice of products they recognise and value".
 We decided to put the premium brand to the test and head out to our office neighbour to try out the products due to be available onboard.  We got our staff at World House to join in on the taste test and give us their verdicts!
 Alan decided to go for the Aberdeen Angus Beef and Red Onion Chutney Bloomer (£4.75 inflight price).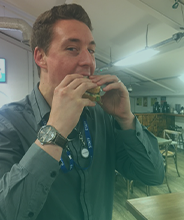 Verdict
"The beef bloomer gets a thumbs up from me".
"When you're buying from a good premium brand like M&S you know you're going to be in for a good quality butty".
The new menu will be available from 11 January 2017 on services to and from London Heathrow and London Gatwick in Euro Traveller only and will replace the complimentary food and drink service currently offered. All Euro Traveller services will have the new offering from summer 2017.
Emma tried the Classic Fruit Salad (£3.10 inflight price).

Verdict
"I'm a very fond admirer of a fresh fruit salad and this one hit the spot. It was incredibly juicy and fresh".
"My initial reaction to the news was how fresh are these going to be onboard? But I then realised they'll be just as fresh as the ones you can get in any store so it's a high flyer in my book".
Payment on board for your M&S goodies is due to be quick and easy via debit or credit card transactions which include contactless payment. Passengers will also be able to pay with their Avios points via the BA app or with their Executive Club card.
Todd fancied a taste of the Mozzarella and Tomato Focaccia (£4.75 inflight price).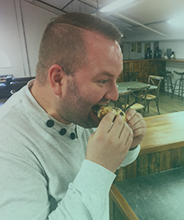 Verdict
 "At first I was a bit unsure about the new approach to catering but sampling the product really sold it to me".
"It's a great idea for British Airways to get such a good quality brand onboard. And I like that I can do a contactless transaction".
The menu includes a wide selection of sandwiches, salads, savoury snacks and sweet treats.  There will also be healthy eating, gluten-free and vegetarian options available upon request. Branded hot, cold and alcoholic beverages will also be available to purchase onboard.
Natalie sampled the Super Nut Fruit and Seed Flapjack (£1.45 inflight price).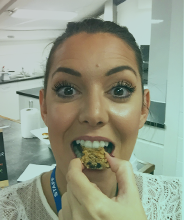 Verdict
"It was full of flavour and packed a lot of punch".
"I would be quite happy to pay the onboard price as it's quite a substantial snack- plus it wasn't crumbly so very little mess during your flight".
 Natalie adds
"Consumer reaction has been mixed from what we've witnessed on social platforms. Whilst it is a big change, it's important to contextualise the move. Passenger feedback has shaped this decision and I know from my own travel experiences that all I really want on a short flight is a fuss free snack…and maybe something sparkling to sip if it's leisure travel!
Prices are reasonable onboard and the range of products adds an element of fun to the selection process. All things considered, I think this is a positive partnership which will enhance rather than hinder long-term sales of shorthaul travel".
 We all enjoyed testing out the food here at Lime but we would really like to hear what you think of this new change in BA catering. Please feel free to have your say via the enquiry form on the Contact page, or alternatively email marketing@lime-management.com           
Apply for a Lime account
Fill in our simple online application to start reaping the benefits of Lime's Flights or Groups service.
For other services please contact us using the enquiry form.