A BA party flight & Mardi Gras Festival - our very own Lyndsey takes on N'Orleans
Well, what a weekend! From a star studded 'party' flight to celebrate the launch of British Airways' new service to the 'Big Easy' to the craziest carnival atmosphere I've ever encountered, and Creole cuisine that could set your taste buds alight.
Let's start with the VIP flight, and let me tell you it was like nothing I've experienced before. Forget settling down in your comfortable contoured seat to enjoy hours of on demand entertainment - there was no time for this as BA pulled out all the stops with a once in a lifetime shindig in the sky! This was the perfect warm up for the N' Orleans way of life (which I quickly learned was the local pronunciation for the city).
Creole inspired cocktails were flowing on board. I opted for a Hurricane over a Sazerac, purely on the account of the sheer alcohol content in the latter. The lady next to me ordered one and believe me the intense whiskey/absinthe aroma is enough to get you tipsy before you've taken a sip. If you like a strong drink, you must try this cocktail. The Hurricane is sweeter and more palatable in my opinion (a mix of rum, passion fruit and orange), however don't be fooled by the sweetness. They say in New Orleans that the effect of your first Hurricane will hit you half way through your second 'and by then you're in trouble!'
The food served on board was delicious and gave us a true taste of things to come in Louisiana. My favourite (and frequently ordered) dish being Shrimp Etouffee; lightly spiced and not too heavy – the local accompaniment is grits made from ground corn - which is much tastier than it sounds. Dickie Brennan's Tableau in the French Quarter is a good place to go for some authentic Cajun and Creole dishes. Upstairs balcony seating is a must for a fantastic view of Jackson Square – perfect for people watching and whiling away the hours in the sun. You'll find many artists and tarot readers surrounding the famous St Louis Cathedral so it's well worth a look, you could even purchase a Trump voodoo doll (if that's your thing).

On board, excitement builds for the Mardi Gras weekend and there's an energetic atmosphere throughout the aircraft – from both the passengers and the friendly British Airways flight crew. To get us into the spirit of what the 'Big Easy' had in store, we were all treated to live performances from singer Nicole Scherzinger and Jazz artist YolanDa Brown and not one person was sitting down on that flight! It's fair to say we arrived fully prepared and ready to party N' Orleans style!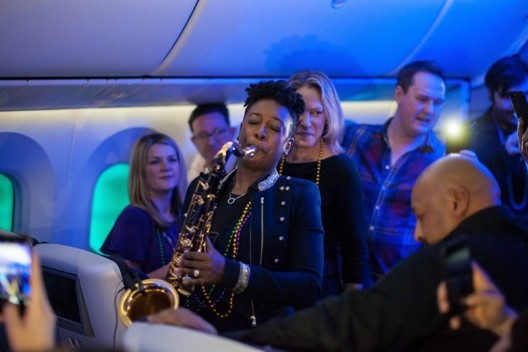 When I say 'party' I mean enthusiastically cheering and waving amongst the costumed crowds at the countless and beautifully adorned floats on a mission to collect as many beads as possible – this was so much fun! I even managed to get myself onto a float, admittedly once the parade had finished but still. Anyone who loves a good fancy dress will feel right at home during Mardi Gras – as pretty much anything goes! Purple, green and gold are the main colours of the annual festival but a Star Wars suit or a pram full of pretty puppies wouldn't look out of place (check out my Pinterest page for some of the sights). Get your face paint, wigs and tutus at the ready, but one piece of advice I must impart is to be comfortable, particularly in the shoe department! You'll do so much walking and standing watching the parades, your feet will be aching. So, ditch the heels like me and get your fave flats on.
If visiting NOLA out of carnival season you could walk the French Quarter again and again, each time discovering somewhere new to eat, drink and shop – see more pictures here. The Arts District is also a lovely place to meander, with countless galleries, fine restaurants and museums to choose from. It's possible you'll get tired of walking – I did and so hailed a pedicab for a more chilled way to get around. The city is flat so you'll find many people hiring bikes to get around, which is another easy (and healthier) option, especially if you find yourself tempted by the satisfying Po Boy sandwiches.
Prior to my trip I was under the impression that New Orleans was all about the jazz, yet this is not strictly the case! Yes, you won't walk more than a few blocks without hearing some jazz, but your ears will also be treated to a host of genres from Latin blues to reggae, and on the less commercial Frenchman street – where the locals' hangout - you'll sample some of the best live music around. I soon learned that whatever your taste in music (as I must admit jazz isn't my favourite) there is something to get your hips swaying! And, the music doesn't seem to stop. Everywhere is open 'til the early hours and seem to get busier the later it gets - so if you're a night owl then you'll be right at home.
To escape the hustle and bustle I found a walk along the Mississippi river front just the ticket and even more so when I hopped on a short (and cheap at $2) ferry crossing to Algiers Point. This small and quiet neighbourhood has a fantastic view of the New Orleans skyline yet is a stark contrast to the buzzing city, and a pleasure to walk around after a few days of carnival craze. The best part though has to be the no-frills Old Point Bar. You'd be excused for thinking this tired looking joint had closed. The walls look like they might crumble away if you touch them, but behind the warn facade is a bar with character – bursting with American memorabilia and a friendly vibe from the locals. Definitely worth a visit!

After a busy and fun-filled trip to New Orleans, I was ready for my World Traveller Plus ride home with British Airways. The extra legroom and wide seat was exactly what I needed to rest my tired legs and this time I fully embraced the entertainment on offer! The curtains drawn either side of the cabin, made for a calm and secluded setting for the most peaceful flight home – a dramatic difference to the outbound flight! In full recline with a cosy blanket and eyeshade it wasn't long before I was in a deep slumber for some much needed rest.
Aside from the Mardi Gras and the vibrant night life, New Orleans has lots more to offer and sadly I didn't get to do it all, which is why I'll visit again when BA launches their new direct route on 27 March – becoming the only airline to fly direct to this fascinating city from the UK! The airline will fly four times a week and touchdown in New Orleans just in time for cocktail hour, what more could you ask? I might be tempted to team this with one of American Airlines' six onward flights from MSY for a US holiday of a lifetime.
Thank you, British Airways, and the New Orleans Convention and Visitors Bureau for an unforgettable trip!
Love
Louisiana Lynds
Apply for a Lime account
Fill in our simple online application to start reaping the benefits of Lime's Flights or Groups service.
For other services please contact us using the enquiry form.