British Airways staff, an army of volunteers, and some fabulous celebs give Dreamflight 2017 the X Factor!
Hundreds of children got to meet X factor winner Stacey Soloman and former Eastender Joe Swash as they attended a supercharged send-off at Heathrow for Dreamflight 2017. Stacey and Joe chatted with the children before they jetted off on a British Airways jumbo jet destined for Orlando where they will visit Harry Potter World and swim with dolphins.
Mum of two Stacey said: "It's been an amazing experience meeting the children here today. Dreamflight is a wonderful charity and it's been great to see how excited the kids are to be flying to Florida in style on their very own private British Airways jet."
TV favourite Joe said "It was so lovely to see all their faces, they were all so excited! The work Dreamflight does is so amazing and it was a pleasure to be a part of this year's trip."
Every year Dreamflight raises funds to enable a specially chartered British Airways jumbo jet to fly almost 200 children with a serious illness or disability to Florida to enjoy a fun packed ten-day trip of a lifetime. There the youngsters will spend time at attractions including Walt Disney World and Universal Studios.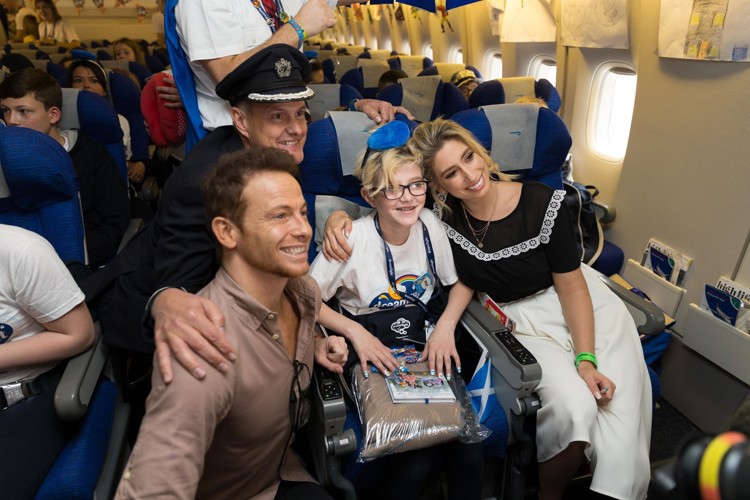 British Airways comes together with the Dreamflight team each year to make the departure an extra-special event. An army of volunteers, including Darth Vader, his Stormtroopers, the Air Cadet National Marching Band and British Airways cabin crew and pilots were at Heathrow to see the children board the Boeing 747 through a magical castle.
British Airways Captain, Philip Ticehurst has been volunteering for Dreamflight for over 11 years, flying the aircraft and helping to raise money for the charity. He will be staying with the group while out in Orlando, as one of the chaperones for the children on their trip. Speaking just before the flight departed Phil said: "The Dreamflight trip is one of my absolute highlights of the year. The children are such an inspiration to us all, and I feel honoured to be part of the British Airways team supporting this wonderful once-in-a-lifetime trip."
Natasha Baker MBE and Liz Johnson, who both won Gold at the Rio 2016 Paralympics last year, travelled on the trip when they were younger and came back this year to celebrate Dreamflight's 31st anniversary and share their stories with the children.
Since the first flight in 1987, more than 5,600 children have flown on 'Dreamflight', and for many – it's the very first time they've travelled abroad and been away without their family. The young fliers are accompanied by the Dreamflight team, British Airways cabin crew, and a fully trained medical team, which includes doctors, nurses and physiotherapists, on hand 24 hours a day throughout the trip.
Apply for a Lime account
Fill in our simple online application to start reaping the benefits of Lime's Flights or Groups service.
For other services please contact us using the enquiry form.