Caribbean, Male and Mauritius Christmas fares for 2019/2020 available to book now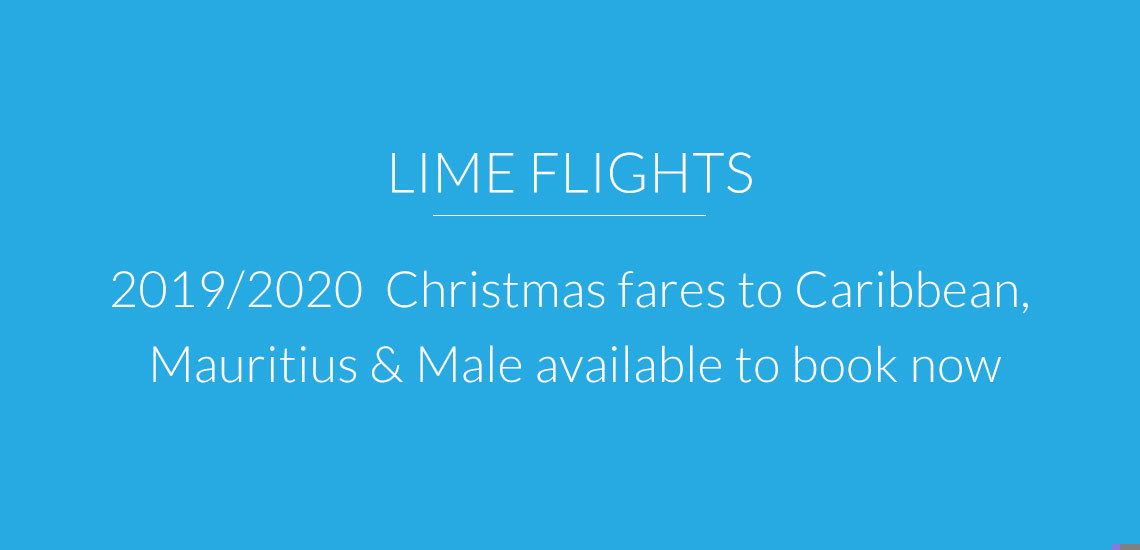 We are pleased to advise you that British Airways will be opening flights for sale for travel over Christmas and New Year 2019/2020 available to book now through Lime.
Premium booking classes to/from Mauritius, Male and selected Caribbean destinations for travel 14 December 2019 to 29 December 2019 outbound and 31 December 2019 to 8 January 2020 inbound will be opened at 355 days to departure in either A, C, D or R class subject to demand. Other classes may become available on 24 January 2019 after 10.00am subject to demand.
The following destinations are included:

ANU | SKB | TAB | UVF | POS | BGI | GND | PLS | MRU | MLE
Full details of booking conditions can be found in the fare rules. A summary is detailed below:
Ticketing deadline for A, C, D, R and I booking classes.
All itineraries containing BA flights to/from the above destinations travelling:
Outbound – ex LGW 14 December 2019 to 30 December 2019
Inbound – ex Other End 01 January 2020 to 10 January 2020
Must be ticketed at least 90 days before departure.
All bookings made within 90 days of departure must be ticketed within 7 days of making the reservation.
The ticketing deadlines apply equally to inbound sectors between 1 January 2020 and 10 January 2020. 
Apply for a Lime account
Fill in our simple online application to start reaping the benefits of Lime's Flights or Groups service.
For other services please contact us using the enquiry form.