*NOW CLOSED* Win a British Airways luxury amenity kit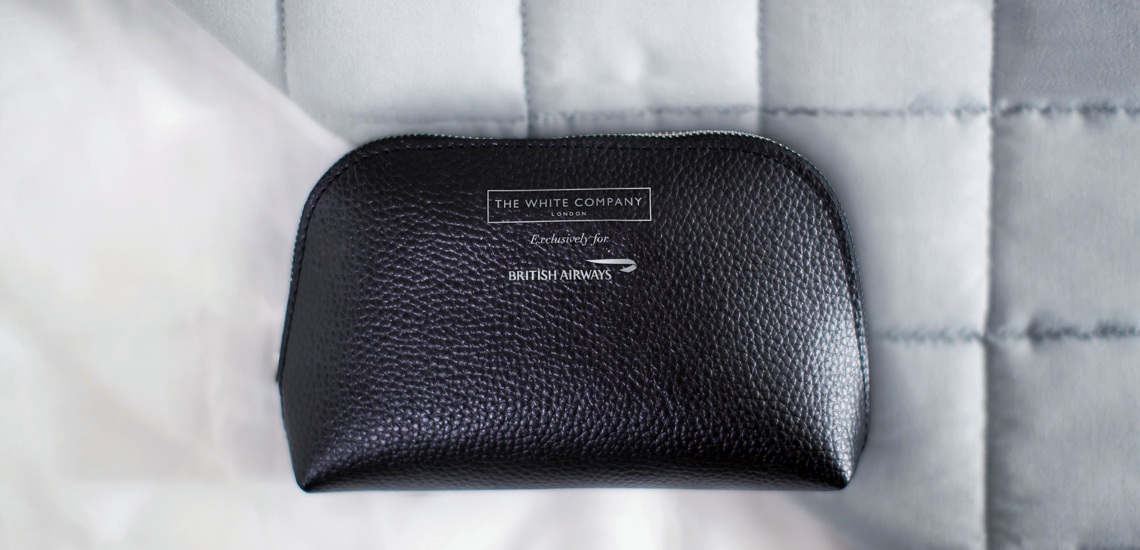 Discerning luxury travellers are in for a treat: we've had a sneak peek inside the British Airways amenity kits in First and Club World and the contents are delightful. Let's dive deeper into what you can expect to receive when you board the aircraft - keep reading to the bottom to find out how you could win one of your own today (Monday 15 October)!
Club World
British Airways have teamed up with luxury British brand The White Company to create their onboard amenities and bedding in Club World.
The offering of two pillows is perfect for getting comfortable – you can choose between a large pillow in a white cotton case or a soft day pillow that can also be used for lumbar support.
When it's time for a snooze, snuggle up with a padded mattress cover, soft duvet and woven blanket with satin trim.
All your other amenities will be encased in a black leather pouch, delicately branded with The White Company logo. As well as an eye mask, earplugs, a toothbrush and soft cotton socks, British Airways have added a touch of luxury with goodies from the Restore & Relax Spa Collection.
Expect Luxury Lipbalm with jojoba oil and Vitamin E for hydration as well as the popular Restore Gentle Moisturiser. To soothe any stress away, the Relax Pulse Point Oil is delicately fragranced with lavender. Should you need to fill out any paperwork, there's also a handy pen inside.
First
Liberty London have worked exclusively with British Airways to create two fabulous First amenity kits.
Men will receive a dark heritage print 'Arundel' bag with products from premium grooming brand The Refinery, while women are gifted with an 'Indiana' printed bag filled with Aromatherapy Associates amenities.
Inside both bags, travellers will find earplugs, toothbrush and toothpaste, pen, comb, eye mask and cotton socks – the latter two in a darker 'First' style than the grey Club World offering.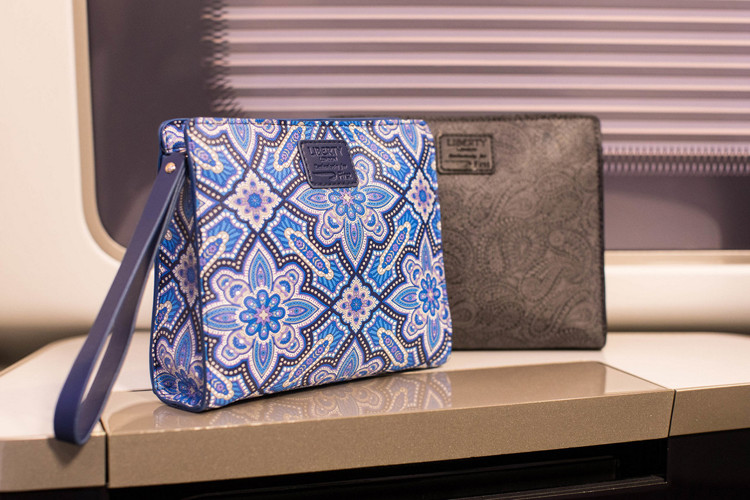 In the male bags, a razor is also included along with a Clove and Peppermint shave gel.
Other products include deodorant, The Refinery Revitalising Moisturiser, packed with anti-ageing Vitamins C and E and Frankincense, Sandalwood and Vetivert essential oils for a powerful moisture boost, and Moisturising Lip Balm with cocoa butter, vanilla and ginger to help prevent dehydration.
The bags for female travellers include mindfulness-focused products from Aromatherapy Associates.
The Renewing Rose Cleanser is designed to keep your skin looking radiant and healthy, alongside the useful cotton pads included to help remove traces of makeup. Complimenting this are the antioxidant-rich Triple Rose Renewing Moisturiser, Moisturising Lip Balm, stick deodorant and beautifully scented Orange Flower Hand Lotion.
*COMPETITION CLOSED* Want to try one for yourself? We've got five First and five Club World bags to give away to our agents. Just make premium cabin bookings with Lime on Monday 15 October and we'll select 10 lucky winners!

Congratulations to all our winners:
Sue Lyall
Moiz Taherbhoy
Gwen Strachan
David Clynick
Rob Irwin
Amy Gerrard
Tania Fyne
Ram Jha
Anna Papaphotis
Lisa Cook
Apply for a Lime account
Fill in our simple online application to start reaping the benefits of Lime's Flights or Groups service.
For other services please contact us using the enquiry form.