British Airways spreads it's wings with Limited Edition Marmite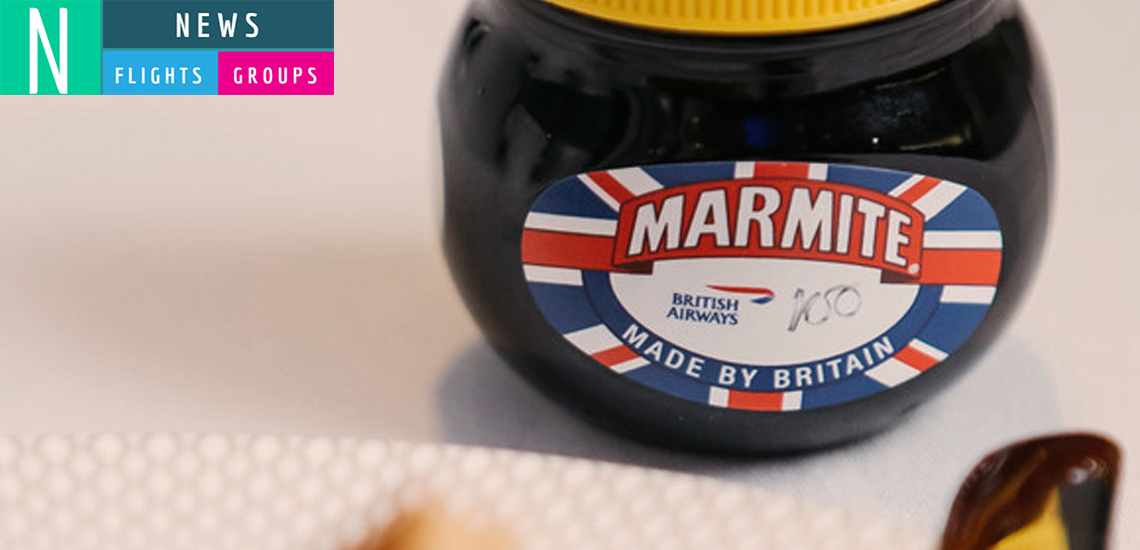 British Airways and Marmite have teamed up to create a limited-edition jar to celebrate the airline's centenary, launching on 1 May 2019. As Marmite is the most confiscated brand at airport security, the centenary jar is conveniently sized to fit within the liquid allowance.

For Brits travelling abroad, it is clear they cannot go without the British spread that has divided the nation since 1902. Based on data from London City Airport, Marmite is the most confiscated branded food item at airport security. Other branded items that did not make it past security are Harrods jams and spreads and Lyle's Golden Syrup.
The airport has seen deserted jars of Marmite increase 50 percent in the first three months of 2019, from four to six jars a day, and the airport forecasts it could seize over 2,000 jars this year alone. British Airways customers can now get their Marmite hit when away. The special edition spread will be exclusively available to customers on board all flights from 1 May. The jar weighs 70 grams so if they do not get through it on holiday they can safely take it through security as it falls within the liquid restrictions.

To coincide with the launch, on 30 April London City Airport will be holding an amnesty at its security gates, giving all customers the chance to swap their over-sized, prohibited jars of Marmite for British Airways travel-friendly version.

Hamish McVey, British Airways Head of Brand and Marketing, said: "It's clear that customers like to enjoy their favourite brands like Marmite while travelling or when they're abroad. We work with some of the best of British to bring them to our customers on board our flights and now, in our centenary year we will have even more brands alongside Marmite that our customers can enjoy."
British Airways will be releasing a series of centenary editions in partnership with British brands during its milestone year. Earlier this month the airline announced a partnership with Scottish craft brewers, BrewDog, who have created a transatlantic IPA for customers and in a world first brewed the beer on a flight. The airline has also partnered with luxury British watchmakers Bremont on the launch of a new limited-edition timepiece, featuring metal from one of the most famous and iconic planes in history – Concorde.
Ian Cowie, Director of Customer Operations at London City Airport, said: "With 4.8 million passengers travelling each year through London City Airport, many of whom are returning to the continent or heading on holiday, it's little surprise that Marmite is such a treasured item and demonstrates just how loyal Brits are to their favourite brands. Whether you love it or hate it, we're looking forward to ensuring passengers can continue to get their Marmite fix. For any other liquids, pastes and gels over 100ml, it's best to pack them safely in the hold."
As part of British Airways £6.5 billion investment for its customers, British Airways also recently revealed its new business class seat and introduced changes to its First, World Traveller Plus and World Traveller cabins, delivering exceptional new restaurant-style catering from Do&Co. British Airways is also rolling out industry-leading Wi-Fi on board, opening new lounges across the world and launching 15 new routes.
About Marmite
Since 1902, Marmite has been the nation's most loved and hated breakfast spread. It was first discovered by a German scientist called Justus von Liebig who found that brewer's yeast could be concentrated, bottled and eaten. Marmite is a French term for a large covered earthenware or metal cooking pot. Originally British Marmite was supplied in earthenware pots but since the 1920s it's been sold in the bulbous glass jars, we are familiar with today. Available in supermarkets and independent retailers worldwide, Marmite comes in a variety of sizes, including 70g, 125g, 200g, 250g, 400g and 500g. Marmite is rich in B vitamins including folic acid. Marmite is a British brand made in Burton-on-Trent, Staffordshire by Unilever UK.
Apply for a Lime account
Fill in our simple online application to start reaping the benefits of Lime's Flights or Groups service.
For other services please contact us using the enquiry form.