Tips on how to make travel more sustainable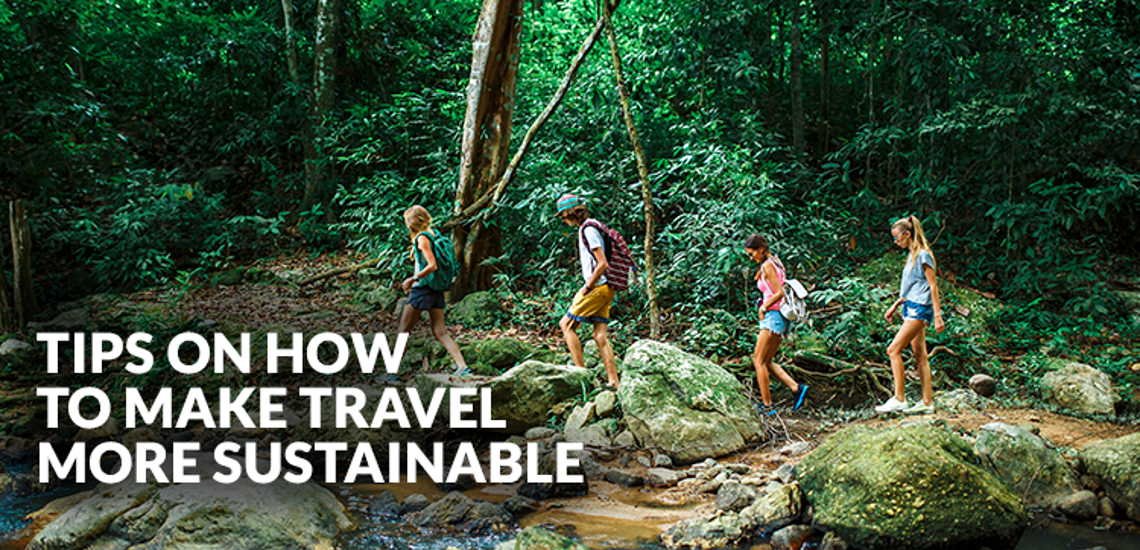 In the industry we're in it's important to talk about the heated topic of aviation's impact on our environment. It's common knowledge that the emissions released from air traffic leave quite a large carbon footprint, and whilst no one would suggest putting a stop to travelling, we can find ways in which we can make travel more sustainable and do our bit to ensure generations to come can enjoy the world like we do. 
This blog has been written to pass on some handy tips on how group travel can be made more sustainable. This will be useful to both yourself when talking to your customers, and to your groups when preparing to travel. 

Make sure groups travel with
reusables
You've probably seen them out and about already but items such as reusable bottles, mugs, bags and straws are nifty ways of helping the environment. Plus, with the option to buy collapsible bottles and mugs you're not taking up too much luggage room!
Sometimes it's really hard to avoid bottled water in specific destinations due to the local water being full of bad bacteria. However, you can buy water bottles with built-in filters or portable travel water purifiers which can kill up to 99.9% of bacteria. 

Fly direct and in the day time 

According to The Guardian's Aviation Q&A: the impact of flying on the environment taking off and landing burns more fuel than cruising so having a trip with multiple stops may be more harmful than flying direct. This article also points out that choosing a daytime flight may be more beneficial as any contrails caused by the plane will reflect some sunlight away from the Earth in addition to locking warmth into the atmosphere. 
Did you know British Airways fly direct to over 200 destinations across the globe and are constantly evolving and expanding their route network to suit the needs of their travellers?

Consider what airline you're choosing
IATA (International Air Transport Association) member airlines offer carbon offset programs to neutralise the aircraft's carbon emissions by investing in carbon reduction programmes. British Airways have partnered up with Velocys, a renewable fuels company to design a series of waste plants that convert household waste into renewable jet fuel. They have also reduced their CO2 emissions by more than 360,000 tonnes since 2014 by reducing the number of engines the aircraft use to taxi and optimising flight routes. 

Keep the plane blind closed 
By keeping the plane blind closed on a sunny day the aircraft can be up to 10 degrees cooler and reducing the cooling load saves energy and reduces greenhouse gas emissions. 

Check the type of transportation arranged
When arranging the itinerary for your group tours have you thought about the different methods of transport involved? Are there times where hiring a bike rather than using a car could be incorporated? Are there plenty of opportunities to walk to places? Asking yourself these questions and acting on them can make your group travel more sustainable. 

Support local businesses 
Whether it's the hotel accommodation or activities booked, supporting local businesses can boost the economy and tourism significantly. Steer away from large chains and book with  independent businesses run by locals. 

Stay clean and tidy
This one might sound obvious but cleaning up after yourself plays a huge part in being sustainable. The amount of litter left on beaches and on the roads can be horrendous for the environment. Remember to clean up after yourself or after other people if you see rubbish left around you. You will be making a huge difference to the environment by keeping it clean. 

Check the aircraft you're booking
Newer aircraft generally tend to be more fuel efficient so it's always worth checking what you're booking or flying on. British Airways Boeing 787 Dreamliner is 20 percent more fuel-efficient than most of the fleet and the Airbus A380 is around 16 percent more fuel-efficient. Between now and 2022 the airline will introduce 72 new and more fuel-efficient aircraft including the Airbus A350, the Boeing 787-10 and the Airbus A320neo. 

You can find out more about the airline's environmental and corporate policies here >



Take more showers and less baths 
As tempting as a relaxing bath might sound, having less of them can be beneficial to the environment. Baths use up to 70 gallons of water each time whereas taking a shower uses just 10-25 gallons.



Think about what you're eating 
Buying locally produced food can reduce the average person's greenhouse gases by up to four to five percent. Eating less processed and organic foods can also further reduce gas emissions.  

Did you know?
Did you know that IAG partner airlines such as British Airways, Aer Lingus, Iberia, Vueling and Level donate hundreds of airline blankets each year to ensure the orphaned baby elephants at the David Sheldrick Wildlife Trust in Kenya are kept warm and protected from common diseases? 
Sources 
Please note, some of the information on this blog has been provided by multiple sources: 
https://www.treehugger.com/travel/how-make-travel-more-sustainable.html 
https://greenglobaltravel.com/green-travel-tips-ultimate-guide-sustainable-travel/ 
https://www.vogue.com/article/ways-to-make-travel-more-sustainable
https://www.nationalgeographic.com/travel/lists/sustainable-travel-tips/ 
https://blogs.ei.columbia.edu/2012/09/04/how-green-is-local-food/

Apply for a Lime account
Fill in our simple online application to start reaping the benefits of Lime's Flights or Groups service.
For other services please contact us using the enquiry form.