Activities for every type of traveller in the Seychelles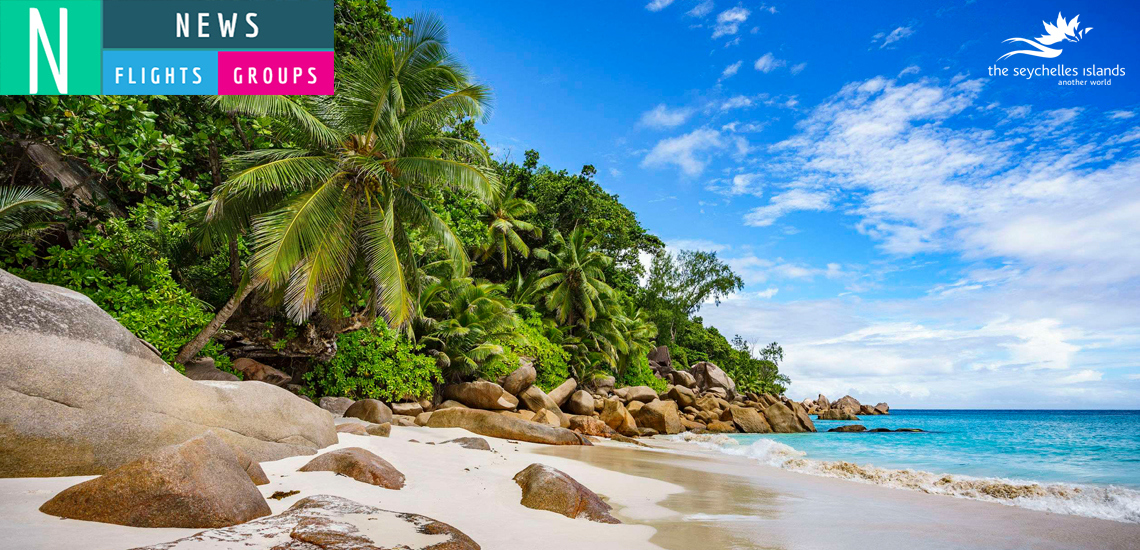 The beauty of the Seychelles is legendary: from the gleaming white sandy coastlines to clear turquoise waters, it's the perfect destination to visit for a slice of paradise. But while it's well known for providing incredible luxury honeymoons thanks to its abundance of beautiful resorts, the Seychelles also boasts activities galore to entertain travellers of all ages and interests.
Hiking
For walking enthusiasts, Seychelles is full of incredible hikes ranging from easy strolls to hilly climbs. Families can explore Vallée de Mai, a famous national park and UNESCO World Heritage site that offers beautiful walking trails under the shade of trees. Children will be safe to explore the foliage and spot geckos in the island's answer to Jurassic Park.
As a similar (but less busy) alternative, Fond Ferdinand is a former palm plantation full of Coco de Mer trees with a beautiful viewpoint where you can look down on Praslin and the surrounding islands.
On Mahe, the Copolia Trail takes about two hours but leads to impressive panoramic views of the island from a granite mountaintop. It's also famous for the incredible variety of flora as visitors can spot spices like vanilla and cinnamon growing along the way, along with carnivorous pitcher plants.
Hiking to the highest point is also possible on La Digue where walkers will be greeted with spectacular views. There's little shade on this route so we'd recommend leaving earlier in the day to avoid the midday heat.
Wildlife
Among all the amazing wildlife in Seychelles, one of the most incredible species you can see is the giant tortoise. It's the only place you can find the native species on Earth outside of the Galapagos Islands so we'd highly recommend taking the ferry from Praslin to Curieuse Island to visit the tortoise nursery that exists as part of the conservation programme.
The island is also visited by nesting sea turtles and unlike anywhere else in the world, Hawksbill turtles lay their eggs in broad daylight so you may be lucky enough to encounter some baby turtles as you snorkel close to the shore!
Visitors to the Seychelles can get in the heart of the action with a snorkelling or diving trip where you can get up close and personal with turtles, fish and even plankton-eating whale sharks if you're lucky.
Culture
As well as the spectacular natural world, there's a number of cultural activities that visitors to the Seychelles can enjoy. In the capital city Victoria, the market is a great example of how the old and new ways of life blend with a huge array of fish, fresh fruit, spices and souvenirs on offer. We recommend visiting early in the morning for food shopping.
Based on the Big Ben in London, governor Sir Ernest Sweet-Escott ordered a similar clock to be built as a memorial to Queen Victoria. The clock tower has acted as a focal point of the city for almost 100 years and is worth seeing during any visit to the city.
One of the most popular tourist spots on Mahe is the Tea Factory. As well as being able to see a real tea plantation, you can taste Seychelles tea while looking out from one of the island's finest viewing points.
Adrenaline
For the thrill seekers out there, why not take off through the trees on a ziplining adventure? With a series of zips taking around 50 minutes to complete, travellers will experience the pristine forest canopy on a breathtaking journey.
Within the same facility, families can also enjoy rock climbing in safety on a natural granite rock face – it's the perfect day out!
Beaches
Of course, we couldn't talk about the Seychelles without mentioning just a few of the spectacular beaches that hug the edges of each island. La Digue is home to the most famous beach in the Seychelles, Anse Source d'Argent, recognisable for its imposing granite boulders and coral reef. Cycling around the island is another great way to explore hidden beaches!
On Praslin, Anse Lazio has been ranked one of the top ten beaches in the world! With no rocks or coral reefs, it's a great beach for families as parents with young children won't need to worry about their youngsters stepping on anything sharp.
For somewhere a little more private, travellers will need to call ahead to visit Anse Georgette but it's worth it. Near the luxury resort of Lemuria Resort, simply inform the hotel of your visit and take the 30 minute stroll through the grounds to enjoy the stunning turquoise water with natural shade across the sand.
Boat trips
It's one thing to admire the crystal clear water from the beach but to really appreciate the bountiful marine life surrounding the Seychelles, taking a trip out to sea is a great way to go.
If your customers prefer more active ways to explore, how about a kayaking tour? Or fishing groups may be interested to know that the Seychelles has some of the richest fishing grounds in the world with plenty of big game catch. To safeguard fish stocks for the future, 'tag and release' has been widely adopted.
For families with younger children or travellers seeking a more relaxed experience, we'd recommend a glass bottom boat tour. Imagine gazing through the bottom of your boat and glimpsing brightly coloured corals and fish as you sail. Many of these excursions also include a delicious BBQ lunch for a fun day out that everyone can enjoy!


If you've been inspired to book the Seychelles for your customers, head over to our dedicated page to find out about our zero service fee* offer when you book through Lime. You could even bag a place on our Seychelles fam! Find out more and enter here >
Apply for a Lime account
Fill in our simple online application to start reaping the benefits of Lime's Flights or Groups service.
For other services please contact us using the enquiry form.