British Airways is pleased to announce a new refundable tour operator/cruise fare product for new bookings created from 8 December 2020. The new product applies to longhaul semi-deferred Inclusive Tour (IT) and shorthaul IT fares from the UK.

Once tickets are issued, the fare and taxes will be fully refundable for any reason up to 50 days before departure.
Cancellations within 50 days to departure will be refundable for a nominal fee, as shown in the table below. Cancellations after departure (i.e. once the journey has started) are not allowed.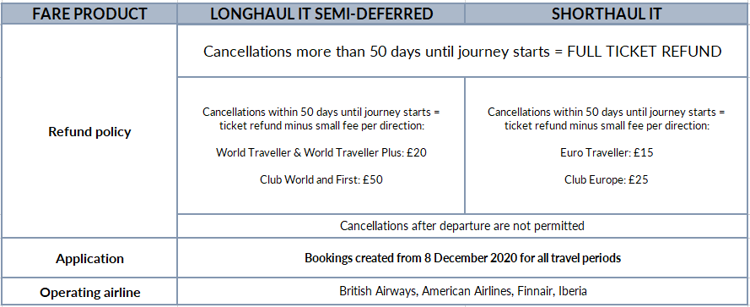 Please note, Lime's refund fee applies.
Flights system bookers: 
Semi-deferred longhaul fares contain shorter deadlines than their deferred counterparts, these are typically 28 days from booking creation, or 14-3 days if travel is imminent. In your Flight account, you can find both semi-deferred and deferred fares under the 'IT' code (shown in a blue oval within each fare family. Filters are available for you to narrow down your search to only Tour Operator (or Inclusive Tour IT) fares within the filters panel to the left of your screen).

Learn more about the differences between deferred and semi-deferred IT fares here >
GDS bookers:
Please remember to include the following OSI entries into all tour operator bookings as standard:
For BA longhaul semi-deferred tour operator/cruise products: PPSD     /    For BA shorthaul tour operator/cruise products: PPIT
Further details:
The new refundable tour operator/cruise product applies to UK longhaul semi-deferred and shorthaul Tour Operator/Cruise fares only, and not longhaul deferred, any Published (PB), Seat Only (SO) or any other fare products

The policy applies to new bookings only created from 8 December 2020, operated by BA or AJB partners; American Airlines, Finnair or Iberia where an applicable AJB routing applies. There is no change in refundability for existing un-ticketed tour operator/cruise bookings where cancellation penalties are based on the current fare rules.

The refund fee applies to adult, child and infant tickets alike, except for infants without a seat where there is no refund fee charge.
Repricing conditions and application of fees remain unchanged as per each carrier's policies.

Once a passenger has commenced their journey, they are not applicable for a refund. Additionally, if a passenger no-shows for a flight they are not applicable for a refund.
Apply for a Lime account
Fill in our simple online application to start reaping the benefits of Lime's Flights or Groups service.
For other services please contact us using the enquiry form.