JET ACROSS TO THE MALDIVES WITH BRITISH AIRWAYS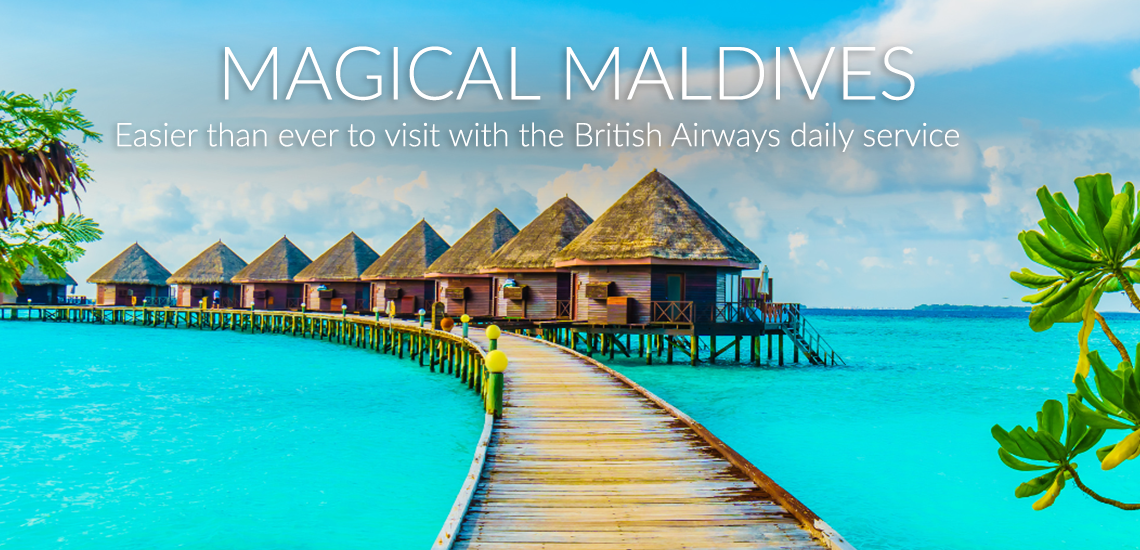 British Airways have announced the launch of additional services to Malé, the capital of the Maldives from London Heathrow for winter 2022.
The Maldives is classed by many as the definition of paradise, filled with world-class water-based experiences and over 1,000 breathtaking coral islands to explore. 
The additional services now mean that there are daily flights from LHR to MLE, providing more choice and opportunities for travellers who want to experience this bucket list destination.
Schedule dates
Flight
Route
Local time
Days of operation
30 October 2022 - 25 March 2023

BA 0061

BA 0060

LHR - MLE

MLE - LHR

18.15/09.40*

11.45/18.05

Daily
*Arrives 1 day later
Your customers can enjoy travelling on-board the airline's Boeing 777 aircraft, with the choice of World Traveller, World Traveller Plus, Club World and First cabins. A great range of choice to cover all budgets and preferences.
World Traveller
This cabin provides all the comforts and benefits you expect from British Airways at an affordable price. Travellers can expect their own flat screen with headphones, a stylish interior cabin with adjustable headrests, soft cushions and a blanket. World Travellers cabins also provide a starter, main and dessert throughout the journey, with a choice of hot, cold and alcoholic drinks.
World Traveller Plus
An upgrade from World Traveller, World Traveller Plus has all the same comforts and many more. These cabins have wider legroom and seats, with noise cancelling headphones for the personal entertainment system. Travellers will be provided with a stylish amenity kit to use throughout their journey and complimentary bar service throughout. World Traveller Plus customers also get the benefit of priority boarding and more free baggage allowance.
Club World
Prioritising premium comfort, Club World is everything a traveller would need to start off their dream holiday. The re-imagined Club World cabins (Club Suite) allow direct access to the aisle from every seat, with a door for enhanced privacy. The seats have digital functions and have the ability to convert into fully flat 79" beds with the added luxury of bedding provided by The White Company. 
First
The most luxurious way to travel with British Airways, First grants travellers access to airport lounges, to fast track through security and bring up to three bags in to the hold, along with both a cabin bag and laptop bag on board. The super comfy seats convert into fully flat beds and are kitted out with the best quality bedding, the perfect match for the Temperley London lounge wear and amenity bags customers are provided with. With a 'dine anytime' menu, travellers can tuck into signature dishes made with quality British ingredients whenever they like, with beverages with as cocktails and champagne to wash it down with.
Sending your customers to the dreamy Maldives by booking through Lime means you will get great benefits such as competitive fares, deposit free bookings, DTC exemption, dedicated account management and many more perks. We are here to make booking easy!
Apply for a Lime account
Fill in our simple online application to start reaping the benefits of Lime's Flights or Groups service.
For other services please contact us using the enquiry form.